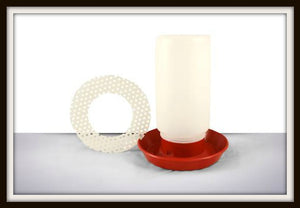 Description: Our plastic watering device is recommended for providing fresh water to crickets 1/2 grown and larger. Our Watering Device is easy to clean and less odor than other systems. This device includes:
1 quart plastic jar ($3.50 call to order)
1 No. 65 plastic fountain base ($2.25 each)
1 die-cut plastic donut ($2.50 each)
Each item may be purchased separately.