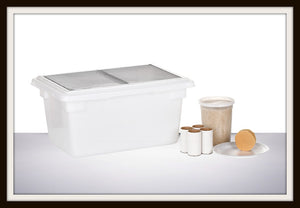 Cricket keeping box for storing and raising live crickets. 
The Jr. Kit is recommended for smaller crickets, up to 1/3 grown. 
Keeps them contained and healthy with plenty of space to move around. Drop in some cardboard egg crates to give crickets more surface area. Tough, durable, easy to clean! Made of white polyethylene plastic with screen lid. Built to last a lifetime. Cricket keeping is easy with Armstrong's Junior Cricket Keeper. 
Complete Junior Cricket Keeper which includes:
- 2 small catch cans 
- 8 oz. cricket food 
- plate to use as food tray 
- 3" watering pad
- screened lid enclosure 


Dimensions: 18" Long x 12" Wide x 9" Deep